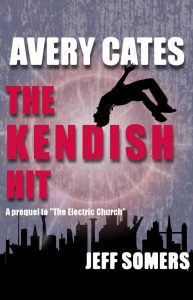 We have three winners who will be receiving a signed print copy of the new Avery Cates story, The Kendish Hit, and this is the story of how they won.
First of all, if you weren't aware that I was giving away copies of the story, that's probably because despite my incessant pleas and reminders, you haven't signed up for my newsletter. Which is, frankly, inexplicable. Four times a year I'll be sending out an email with news, secrets, embarrassing photos, and giveaways and other exclusive stuff. You can sign up over at the top right of this page, or go here. I suggest you do it right now, before you forget.
In the March 2017 newsletter I asked people to finish a line from the story itself:
"The Big Guy had an accent, something drastic that made every word sound like _________."
In the actual story, the line ends "… it had been carved out of rocks." I took all the entries and anonymized into a document, which I submitted to the Jeff Somers Rocks You Like an Email Hurricane Judging Committee, which is staffed by my wife The Duchess.
The Duchess takes everything she does very seriously, and so after a costume change and a snack she settled in to read through the entries, sifting through until she had found three she deemed acceptable for a variety of reasons. Here are the winners:
"… it had been carved out of rocks!" — A.L. Coan
The Duchess says: "I chose this one because they mimicked the Master."
"… cliff faces falling into the ocean, taking that hospital of paraplegic nuns with them. His voice was what the stratification of the Burgess Shale, the Morrison Formation, and the Laramide Revolution would sound like if you recorded every sound during their deposition, scrunched that into a five-minute soundclip, and turned it into a black metal single. Every intake of breath was the collective screams of pterosaurs and anomalocarids still trapped somewhere below his larynx, begging for just one tracheotomy to let them see daylight again." — Paul Riddell
The Duchess says: "This one was chosen for the simple, sheer amount of time it took to come up with something like that."
"… he'd been drinking Black Saddle bourbon for 3 days straight" — John Patterson
The Duchess says: "This one wins because it shows he actually read the newsletter."
So there you have it, folks: The winners of the March 2017 Newsletter Giveaway. Who will be next? You'd best sign up to be in the running. You never know when I'll be giving away my credit card # or something; I do drink a lot.