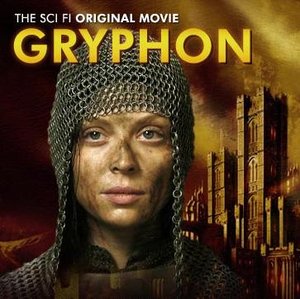 I'm not the first person in the world to wonder this: Why does the Sci Fi Channel suck so, so badly?
My brother and I have this conversation about six times a month, because we want the Sci Fi Channel to rock. We want to be glued to it on a regular basis. On paper, the Sci Fi channel is a Big Win. In reality, it is so often an Epic Fail. This is just my opinion. Mine and several thousand other folks who can be quickly found by searching on "Sci" "Fi" "Channel" and "Sucks" or variations thereon. It's one of the last boutique basic cable channels that retains its identity; back in the early mists of cable TV there were lots of channels designed to grab thoughtspace in viewers by focusing on one subject thoroughly and becoming the brand – sort of the same way people registered domain names like www.sports.com or www.pets.com back The Day. So we had the Biography Channel, Arts and Entertainment Channel, E! Entertainment Channel, MTV Music Television, etc. Most of these channels have since broadened their programming quite a bit, becoming, in essence, regular old TV channels. Even MTV has a broad slate of various programs, many of which have absolutely nothing to do with music, all of which have everything to do with maintaining their precious audience of teenagers.
Not Sci Fi. It's still. . .well, it's still The Sci Fi Channel, y'know? It proudly stakes out SF/F as its subject matter and by that virtue alone it should be one of the coolest channels on TV. And yet, it broadcasts swill like Gryphon, starring Anthony LaPaglia's brother and Larry Drake. Nothing against Larry Drake; I'm glad he's getting work. But. . .seriously. I saw fifteen minutes of this turd and wanted to poke my eyes out and mail them to the Sci Fi channel, demanding compensation.
My brother and I wonder at the economics of it. The SF Channel regularly creates these original movies, all of which are terrible, all of which seem to feature a huge oversized something as a monster. They then give these movies brilliant names like Mammoth, Kraken, or Ice Spiders (subtly telegraphing the shocking moment when the mysterious monster that's been eating everyone is revealed). Now, even assuming these films are made on absolute shoestring budgets (which, judging by the 15 minutes of Gryphon I saw, may actually redefine the term shoestring) you have to wonder how this dreck makes any money. Unless the SF Channel's needs are so low they can actually scrape out a profit on the ad rates they charge for this shit. Another possibility is a small, hardcore audience that will literally watch anything that has an SF/F element in it and doesn't star Lauren Conrad or any of her Hills ilk. In theory, this is a possibility, but I can't imagine anyone could watch Gryphon and stick to that course of action. Maybe they make a killing in the long tail of international DVD and Pay-per-View sales? Maybe Gryphon is huge in Uzbekistan. Maybe it's a variation on the Superman III heist scheme, where billions of fractional profits from cheap DVDs with cover art promising a much better movie results in significant overall profits for the channel.
It's a mystery. Because the programming sucks donkey balls.
The Sci Fi Channel may be working with serious budget limitations, but things like the Battlestar Galactica reboot prove you can do wonders if you put your mind to it. Even the cheapo original movies could be interesting if they actually told interesting stories – stories that maybe didn't require a lot of special effects, but were heavy on the mind-bending SF elements (like, say, Primer, a film I am still getting headaches from). If the money isn't there for 10 more BSGs, then why not run some great old classic series and movies? Plenty of great SF/F was produced in the years prior to 2000, after all, much of it forgotten and probably cheap.
The point is, there are plenty of opportunities for the SF Channel to be cool, and they resolutely refuse to pursue any of them. This mystifies and angers me. Any ideas?