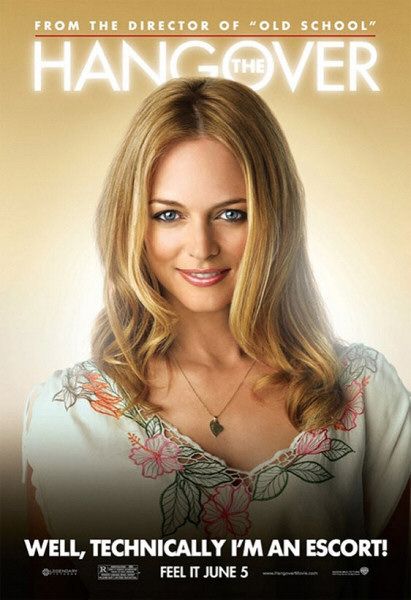 I have no idea why I've been thinking about the movie The Hangover recently. I saw it in the theaters last year and watched it again on TV a few weeks ago just for the heck of it. It's a fun movie, and I enjoy it, but it's not exactly Citizen Kane, so I'm not sure why I've been turning it over in my head so much. I think it's because comedies are so hard to pull off; more often than not I see an ad for a comedic film and I can just smell the failure. As the old saying goes, "Dying is easy, comedy is hard", and baby, I believe it. As a writer, I know that whenever I try to be funny I screw it up royally. Any funny bits in my stories come directly from the characters, growing organically. I guess there's a lesson there.
Anyway, I think the difficulty in making a successful comedy is why The Hangover interests me: It's one of the few recent comedies I not only enjoyed, but think works as a story, not just a collection of hijinks. That's the thing: A comedy can be a successful comedy and still fail as a story. If you're laughing, it's a success, even if the characters and story are frickin' terrible. I think The Hangover works as a story for three main reasons:
The character of Alan: I really like Zach Galifianakis in general, and this role was perfect for him – and I hadn't yet seen him do the same damn character too many times when this came out. But what I think works here is the way his character is handled. He's obviously the Outsider/Weirdo, a character often trotted out in comedies both because their bizarre behavior can be used to comedic effect, but also because their nonstandard reactions can drive the plot or gloss over defects. It's a fun trope. What's good about The Hangover's use of it, though, is that Alan is not presented as a Freak for Fun, a guy you're supposed to laugh at all the time. Yes, he's strange, but the matter-of-fact way his family treats him and his oddities along with the affection the other characters have for him (at least by the end) makes it work. If he were just there to be mocked and abused throughout the movie, it would have been far too mean-spirited. Yes, there's some gentle mockery there, and even at the end there are moments of discomfort for the other characters when he does strange things. But you believe these characters actually like Alan, by the end, and that adds a comrades-in-arms charm to what could have been a really mean story.
The scene split between the beginning and end of the film, where Phil (Bradley Cooper) calls the bride-to-be to inform her of the past two days' events. "We fucked up…" It's a scene that adds just a dash of real regret and horror to the story. It's played relatively straight, and Cooper, I think, manages to convey that sense of dismal horror when you realize things have gone so wrong for so long now that there is simply no way to make it right. It's a brief sequence, immediately broken by the sudden realization that they do, in fact, know where the groom is, but for thirty seconds or so it invites the viewer to imagine the alternate-reality version of this film, where they actually do lose the groom and the wedding is ruined, friendships destroyed, and, fuck, man, charges brought. That sudden spike of terror infuses the rest of the movie with just enough gravitas to make the humor work on a much deeper level.
Finally, the scene in the impound yard where Phil shows actual concern for Alan. It's after they've allowed themselves to be Tasered in order to escape criminal charges and get their car back. Alan tells Phil he is worried about the groom, and Phil shows human feeling towards Alan by telling Stu (Ed Helms) to go easy on him because he's upset. Again, it's a moment where a lesser film would have ratcheted up the funny, but this quiet moment where the characters actually behave like human beings grounds the movie. Yes, Alan's a weirdo, and yes, in a perfect world Phil and Stu might have chosen not to include him in their weekend. But he's depicted as genuinely upset that his soon-to-be brother-in-law is possibly hurt or in danger, and that makes everything else work.
Maybe I'm thinking too hard about this. I'm not trying to suggest that The Hangover is anything more than it is, which is a decent comedy, but sometimes as a writer you can't help but analyze someone else's work, even if it's a mainstream R-rated comedy, y'know?
Then again, this is why I don't get out of the house much, or have any friends. And the drinking.