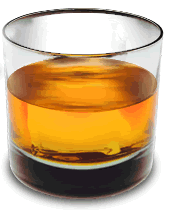 So, I handed in the final manuscript of The Eternal Prison today, otherwise known as Avery Cates #3. My editor at Orbit is brilliant and a little frightening, but I think this story is kick-ass and I can't wait to hear what she thinks. Besides, the very few people in this world I trust to read rough drafts of novels (i.e., The Wife and The Agent) have given it their seal of approval.
Still, makes me nervous. In a weird way I'd almost prefer to keep all my works hidden, just for me to gloat over. I think a lot of writers have this reluctance to release their work into the wild, and we all have different ways of handling it. Me, I drink. When I'm nice and liquored up I call my editor at 3AM and slur on and on about how genius I am, and then email the manuscript to her. Then I wake up 2 days later in Philadelphia. This process has worked pretty well so far.
Anyhoo, now we await the Edit Letter, which is where my editor tells me how ungenius I am and gives me her opinions. Sometimes these Edit Letters are thin and easy to deal with. Sometimes they are tomes of grave horror. We'll see which way this one goes. If I am drunker than usual in a few weeks, you'll have a clue.