Today I received a gift basket containing pretzels, peanuts, and salt packets, but no water, from my Corporate Masters. A little note informed me I was allowed to celebrate.
What are we celebrating? Why, the foreign rights sale of The Electric Church to Russian publisher AST Press (the site's in Russian). As I sit here at my desk with a cat curled up behind me in such a way as to make my back ache and my head throb, this is good news. One, it means more money–I think, though now that you mention it I think I might get paid in Vodka. I'll have to check my contract, if I can find it–I once drunkenly suggested that I be paid in the local liquor whenever a foreign rights sale is made, and I can't recall if I made that particular joke while sitting at the negotiating table or not.
Two, it means the rest of the world is not laughing hysterically at the thought of me being a published author. Finally, it means that when Putin finishes his conquest of the North Pole and controls the world's energy, I may be popular enough in Moscow to continue to live comfortably.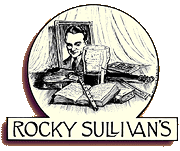 Second, I'll be doing a reading in a few months to celebrate the release of TEC, at one of my all-time favorite places, Rocky Sullivans! I did a reading there a few years ago in support of my books Lifers and The Freaks are Winning and it was a fantastic experience, complete with me drinking beer while I read and heckler's trying to rattle me while I read, so I couldn't be more excited to return.
Rocky's is moving from Manhattan to Brooklyn, however, so make sure you make a note of the new address:
ROCKY SULLIVAN'S OF RED HOOK
34 Van Dyke St. (corner Dwight St.)
Brooklyn, N.Y. 11231
718-246-8050
The date is September 24, 2007, all other details to be figured out. Naturally enough, I'll repeat this several thousand times as the day approaches. Welcome to the Big-Assed Famous Tour 07!!! Come by and buy me a drink and then make fun of me as I stammer and sweat through a reading.