SO, last night I was invited to speak at the first-ever Genre Night for Jersey City Writers. Now, I was born and raised in Jersey City and I currently live a 5 minute walk away from that city, but when I was a kid it didn't have writer's groups. It had gangs, yes, and Boy Scouts. But no writer's groups. So this was exciting stuff.
The event was held at the Freshly Baked Gallery on Monmouth Street in JC – it's a delightful little space in the middle of a sleepy block in a newly revitalized area of the city. If you click through you'll see a lot of really neat pieces – The Duchess and I were really intrigued by a couple of them.
Naturally, I was awkward. We walked in and after greeting Meg Merriet, who organized everything, The Duchess and I sat up front trying to look casual while an alarmingly large crowd filled the space. I turned to the Duchess.
"Think there's a window in the back I can fit through? I'm terrified. I think I just wet myself."
She slapped me violently and warned me not to embarrass her in public.
When I was introduced, I took a photo of the crowd, which is my New Thing: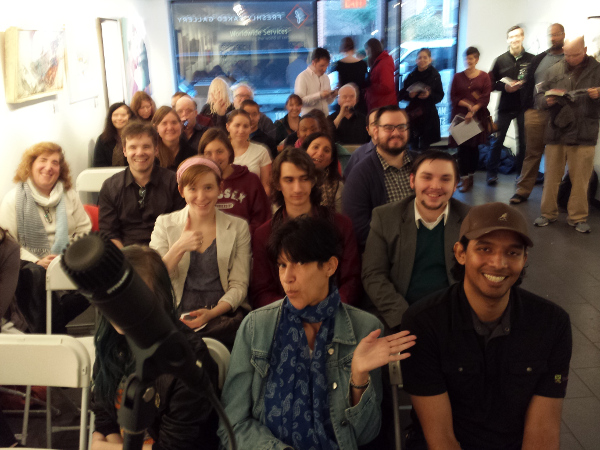 I started with a few remarks about my incompetent path into Science Fiction and being published and all, being witty as usual despite being cold sober for a change (an awful idea, but they asked for donations in exchange for beers and I didn't have any cash, and you can take the Catholic Boy out of Jersey City but never the fear of retribution out of the Catholic Boy). Then I read an excerpt from We Are Not Good People which mentioned a dead girl in a tub and the word fuck almost immediately, establishing my artistic vision.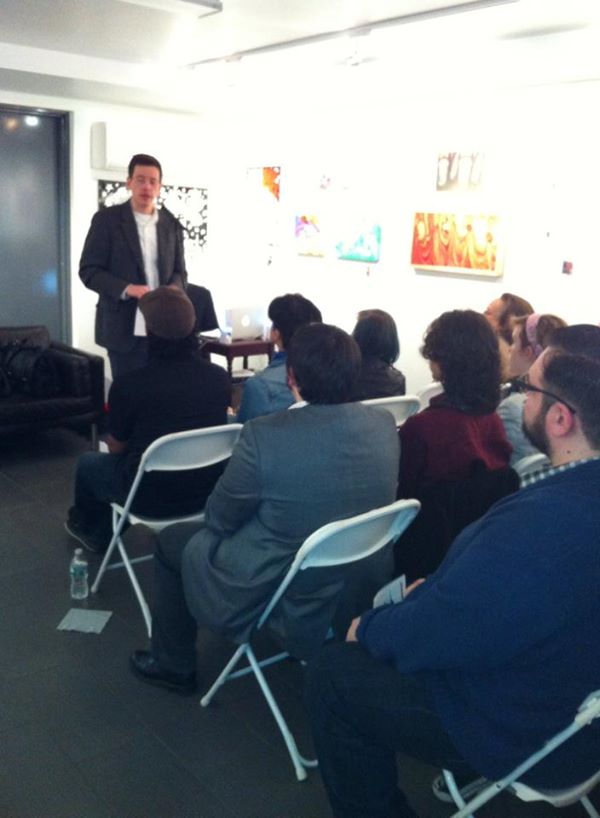 Then, I signed books and chatted, and had a lot of visitors and sold a lot of books:
| | | |
| --- | --- | --- |
| | | |
And so it goes.
There followed readings of short works by JCW members, which were really well done and quite enjoyable. All in all this was one of the best "appearances" I've participated in, and I wasn't even drunk. That's saying something.