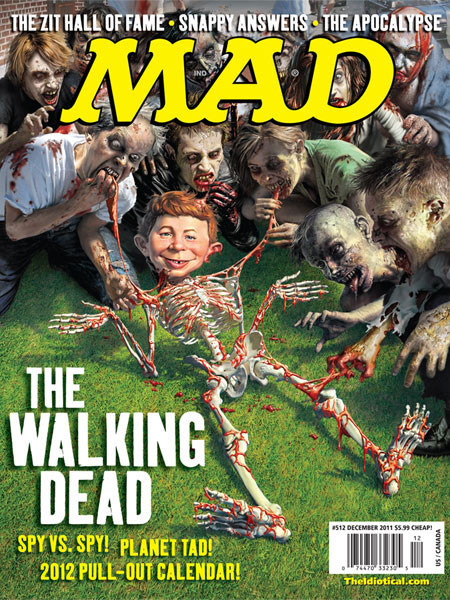 Is there anything less engaging on television than The Walking Dead right now? I mean, Jebus. This show is becoming a seminar in how to take apocalyptic zombie fiction and make it boring. Here's the recipe, in case you're interested in creating your own boring apocalyptic zombie story as a sleep aid for the restless:
1. Have very, very few zombies. Zombies do show up from time to time on this show, and when they do it's usually effective. But for a world overrun by the walking fucking dead, the characters spend a lot of time sitting around, sunning themselves, with no zombies, like, anywhere near them.
2. Put your characters in stasis for long periods of time. By my reckoning, the survivors have been at the farm for sixty or seventy years at this point. The farm is magically resistant to zombie invasion, so the characters are just sitting around talking endlessly about … being on the farm. When they originally arrived at the farm I thought this was a decent idea: On the one hand, the implied security of the farm, it's resemblance to a normal life would tempt our merry band of survivors to steal it, or force their way into it. And of course I fully expected – and still expect – the survivors to destroy the place, to lead the Walkers there and see it burned to the ground. The fact that neither of these things – or something else I didn't predict – has happened means the characters have just been sitting around, with occasional bouts of action clearly thrown in just to jolt the audience from its nap.
For a short while, admittedly, the missing girl storyline justified this. I could get behind that. But then the girl was missing for what seemed like years, and I'd lost interest in her story long before the Reveal. The Reveal was decent enough, yes, but would have worked better if they'd snipped a lot of the intervening story out, like a tumor.
3. Revert to SitCom character stability. I think we get it by now: Rick is moral, indecisive, and prone to lengthy sermons on This Is How We Live Now. Shane is angry and unstable, prone to violence. All of the characters now have a schtick, and by gum they are steady. Any time the show flirts with the possibility that Rick might grow a little less conflicted, or Shane might restore some of his humanity, or Dale might stop being the nagging, ineffective Voice of Timid Reason, they find a way to write their way out of it. God forbid a character actually evolve, because that would mean they'd have to find something else to write instead of another scene where Shane rants and raves about how he's the only one capable of keeping everyone safe.
This is, of course, can be easily corrected, and likely will be by the end of the season as they ramp up a spectacular finale. In the mean time, I've stopped watching. If I read some reviews that urge me to reconsider, I'll be happy to. until then, I'm sick of the Hand Wringing Zombieless Zombie Apocalypse Gang.