News from Jersey and Ohio:
First–yesterday I picked up a copy of our proud local newspaper, The Hoboken Reporter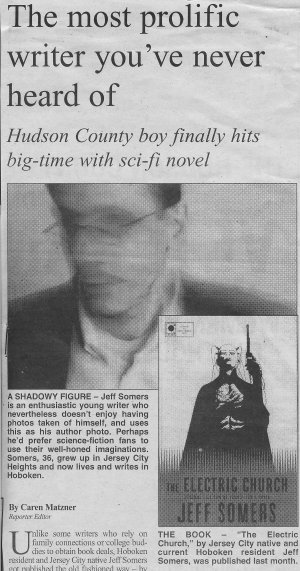 , and lo and behold, there's an extended story on, you guessed it, Your Humble Author. Because I am the hotness.
I was interviewed by none other than Caren Lissner, Editor-in-Chief and also a popular author in her own right, which means Caren knows a thing or two about the writing business and asked me some really interesting questions about the business of being an author, and also let me ramble on quite a bit about various things the way I often do. It's really a very nice piece and if you live in this area you should pick up a copy and then tell me how much of a nerd I sound like.
This was good timing because ever since World Fantasy Con I've been sitting here dozing at my desk wondering how to keep up momentum. Promoting a book is a marathon, not a sprint, and I often wonder how in the world you keep the universe interested in your novel, aside from wandering the earth with a copy in your backpack and stopping at every diner and bar and reading a bowel-shaking snippet of action-packed prose, and then having some handy order forms ready to take orders.
I don't think the piece is on their web site yet; if they ever post it I'll let y'all know. [UPDATE: Posted.]
Second: The Cleveland Plain Dealer's John R. Alden wrote a really nice review of The Electric Church:
""The Electric Church" proves once again that, at least in the world of books, being bad can be a whole lot of fun."
So there you go–today I am dominating the local press of the world. Don't let the efforts of these fine folks go to waste! Buy another copy today!