Okay, so a little ego surfing today yielding the following trail through the heaven and hell of being a writer. First off, we stumbled across Wred Fright's review of The Digital Plague. Full disclosure: Wred's a zine acquaintance so we dig each other's musky odors and cocky strut from the get go, but he does say
"Fans of Somers's longtime zine The Inner Swine will find much to like here, as will any devotee of cliffhanger thrills, futuristic action, brutal humor, and thought-provoking commentary on the future of society and technology."
Huzzah! At the same time, I came across a comment on a bulletin board that sported what will become the slogan of my nightmares for some months to come, found here [emphasis mine, because I enjoy taunting myself]:
"I've just finished The Electric Church by Jeff Somers. It is the shittest book I've read since Punktown by Jeffery Thomas."
BOO-YA, now that is what an author likes to come across. It's like going down to the kitchen to get a glass of water in the middle of the night and stepping on a broken glass! I'm thinking of having mugs and T-shirts made up.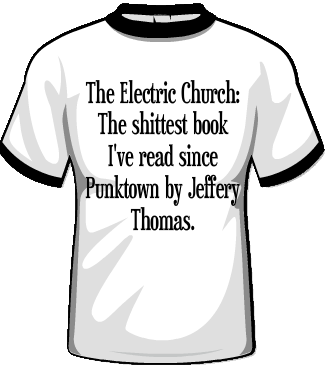 Ah, but the universe, she is merciful as well as cruel, because my ego-Googling also turned this awesome review of TEC in The New Straits Times, which is out of freakin' Malaysia, boyos:
"A brilliant novel within its genre."
So we've just been through all of life's emotions in one blog post. Some wonder why I insist on pointing out things like the middle review; I think I simply enjoy Schadenfreude wherever I find it, even if I find it in me.