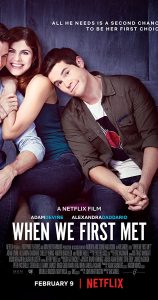 One of the double-edged aspects of streaming services like Netflix is the fact that, in a sense, you've pre-paid for all the content it offers. That often means that when you stumble on some piece of obvious trash—like, say, The Cloverfield Paradox—at 1AM, the bar for pressing select is pretty low. After all, you've already paid for it, and you're obviously looking to waste some of your life. And hey, every bad movie or TV show you watch actually amortizes the amount of money you spent on each bit of media. You have a duty to watch moar.
Now, I'll pretty much watch anything with time travel in it, which is my thin excuse for having fired up When We First Met on Netflix the other night. I was aware of the film from a few scabrous reviews that took the film to task for its rapey-rapey premise (guy meets girl of his dreams, screws up and becomes her best friend [obviously, gross] while she meets and marries a perfect guy, then stumbles into a mystical time travel photo booth and gets the chance to relive the fateful night so they end up bangin', which of course he pursues with stalkerish glee despite the fact that his crush is, you know, happy with her dude) which is basically Groundhog Day if it was all about nailing someone who thinks you care about them as a person.
Still, I watched it, which means I am partially responsible for the rapey romcoms to come. Sorry about that.
Let's put aside the odious premise and the fact that When We First Met is just simply not that good (to be fair, the story does try to bury a less-rapey twist as the main character learns and grows; it's just unfortunate that guys in bad SFF movies have to use the awesome power of space/time manipulation to try and score a lot before they can grow as people). I want to focus in on one particularly terrible aspect of the story that could be a lesson for guy writers everywhere: The Lady Puzzle.
The Lady Puzzle
Interestingly, Groundhog Day is itself guilty of Lady Puzzle Plotting, but it's saved by it's brilliance and a few other things we'll get to. First, what is Lady Puzzling? In essence, it's that story where a guy thinks that women are essentially Encrypted Sex Robots. If you want to sex a lady, you need the encryption code, which is generally imagined to be secret intimate knowledge of their likes, dislikes, and opinions. None of which is ever treated as, you know, the sacred inner life of a living being, but rather as bullshit you have to memorize like you're passing a sophomore year bio exam.
In When We First Met, when our Hero figures out he's traveled back in time to the day he first met the object of his totally-normal obsession, he weaponizes the years of intimate knowledge he's gained about her by being her friend [again: gross] to anticipate her every desire. So you get idiot ball stuff like him asking her what her favorite cocktail is only to interrupt her before she can answer so he can parrot her favorite drink at her as if it's his own.
The idea is, time travel or no, the secret to getting into a lady's panties is figuring out the Secret Code that will uncross her legs. Like, claim to like the same music or politics that she does! Learn her odd and obscure hobbies and pretend to like them!
You could call this the Taylor Swift Gambit: "Find out what you want / Be that girl for a month."
Worse, in the film this works. Sort of. In the first iteration, his creepy knowledge of everything about her does indeed get him back to her apartment, but he's ruined by an earlier interaction which convinces the girl that he's a creepy stalker instead of a magical male version of herself. Ha ha, subversion of tropes! Except, it was working. Now, ask yourself: If a stranger came up to you and started claiming all of your personal tastes as their own, would you be charmed, or alarmed? In a Lady Puzzle plot, they're charmed, because ladies must follow programming if you're giving them the correct input.
Groundhog Day For the Win
I am fond of saying that there are no bad ideas, only bad execution of ideas. So, why then does the Lady Puzzle aspect of Groundhog Day not get a razzie award? For one, the aforementioned brilliance of the movie; it's sharp and insightful, unlike When We First Met. Second, the character of Phil Connors is presented as pretty much an asshole at the beginning of the story, so the fact that he would use his time loop powers in order to gather information on a lady and use it to crack her encrypted code isn't surprising—and his evolution away from such behavior is thus affecting and emotionally powerful. In When We First Met we're supposed to take the main character's "niceness" at face value—he's really in love, yo, and so his antics as he tries to speak the magic words that will get him into her pants is just a manifestation of his desperation to build a life with her. That this is kind of the fundamentals of "Nice Guyism" is completely lost on the folks making this movie.
Finally, in Groundhog Day, the Time Loop Pickup Artist technique is shown to be only intermittently successful. Yes, Phil does manage to seduce one woman using the trick, but it fails spectacularly with the woman he really wants—over and over again. She reacts with increasing alarm and suspicion as he tries to construct the perfect evening that will lead to sexy time, culminating in an epic supercut of face slaps. It's not until Phil leaves off and becomes his true self that he escapes his time loop and winds up with the girl.
To be fair, as alluded to earlier When We First Met does ultimately concede that the Lady Puzzle approach is a bad idea (spoilers, in the unlikely event you watch this movie, follow). After several failures, our hero realizes that his crush will never truly love him no matter how he manipulates reality, and slowly begins to realize that his crush's roommate is actually the woman who has always been there for him, and with whom he's had a true connection. It's meant to subvert the whole Friend-zoney, Red-pilly vibe of the premise, but I'm not sure it's entirely successful. You'll have to judge for yourself … though I wouldn't recommend it.
When writing stories, something else I don't recommend? A Lady Puzzle plot. Somers out.