This morning there was room service, a crust of bread and some warm milk. This is the first food I've seen in days. Living on cigarettes and Whiskey always seems romantic in the movies or in books, but it. . .ain't. I'm yellowed and frail.
I don't know where you live. The town I live in–when I'm not held prisoner in a hotel room and forced to Blog–is a nice small city, about a mile across, forty thousand people or so. The roads are in bad shape, the sewage is a constant worrying concern (in the sense that one day it's going to rain really hard and we'll all be swept away because of the 19th-century drainage) and the city government is your typical old-fashioned political machine. It's glorious!
The main reason I live here: The bars. There's a bar on every corner, almost literally, and most have decent whiskey.
We're supposed to be getting the Mother of All Storms there tomorrow, and considering the drainage situation, I have little doubt my house will be swept away in the deluge. Pray for it, and my cats, who live there.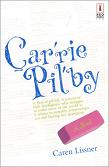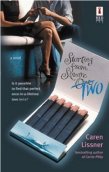 Like most small cities, we have a free alternative weekly paper that tries to cover the gap between local happenings and the larger New York City area stuff that the bigger newspapers concentrate on, and the Editor in Chief over there is also a writer–Caren Lissner. Caren's had two novels (Carrie Pilby and Starting from Square Two) and a few smaller works published so far, and this on top of overseeing a journalism empire. She's really talented.
And she's very into her community–or perhaps pathetic writers desperate for attention–so a few years ago when my obscure first novel came out (the one you can now buy for a SINGLE THIN PENNY–a coin that is worth more when melted down and sold on the black market as raw metals–on Amazon.com) she sent over a poor suffering reporter to do a little interview with me (you can read it here if you want) and has always taken an interest in my writing.
The main thing to remember, though, is that she's a kick-ass writer. Her work has often been classified as "chick lit", but I don't think that's entirely accurate, unless you think any story about young women that involves some romantic angle should be classified such. They're just good stories, well told, with interesting characters. What more do you want? Well, if you want a peek inside Caren's brain, you can check out her own Blog.
Now, if you'll excuse me, I have to get back to trying to unbolt the legs of this bed so I'll have an ersatz club. My fingers are bloody, but I think I might be getting close.