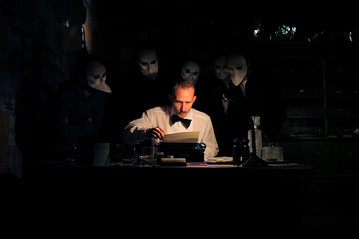 So: Sleep No More. Know what it is? Aces, let's begin.
I went to see this the other day with The Duchess, because it was her birthday and The Duchess likes adventure. I was excited because it was just so creepy and mysterious, and I like the idea of immersive massive entertainments. I just wish they weren't so damn expensive. But then, dozens of actors, endless sets, all that space – I suppose it adds up. Let it drift.
What I was mostly excited about, to be honest, were the details: We were encouraged to be hands-on. Open the drawers, read the letters. Touch the fabrics. Climb into things, get wet. Get dirty. My impression was that these sorts of investigations would reward you, that you'd discover secrets, clues. That ransacking the sets would not only be extremely fun, but would lead you in all sorts of cool directions.
I was wrong.
The Duchess and I were let out on the ballroom floor along with a dozen or so others. We headed towards the music, naturally, and watched the dance turn tragic. When the actors split up, we followed Duncan for a bit, and I immediately began a systematic search of everything. I put my mitts into every possible thing, tried everything. As I moved through the space for the first hour, I literally investigated every nook and cranny I could find, hoping to be rewarded. Once or twice I was even stopped by some of the Black Masks from doing something I was apparently not supposed to do — though how in the world I would ever have known the rules remains a mystery.
Ultimately, I figured out that none of the objects placed in the rooms meant anything, other than as background color, and this is where Sleep No More fails. Don't get me wrong: I enjoyed myself tremendously, and the actors are extremely talented. The scenes I did get to witness were hypnotic and passionate. The set dressing is amazing on a purely visual level — you really do get the feeling of being in another world. But the fact that the touchable objects in the rooms were just dumb show was so disappointing. Details are important when telling a story. Details can often make or break a story. But when the details turn out to all be red herrings, every single one, then the whole thing falls apart and you realize you're not in another world. You're in a warehouse surrounded by black drapery while a few dozen sweaty audience members attempt to chase after an athletic young actor sprinting through the halls.
It's the same in novel writing. Details can mesmerize your reader and make them think they're entering another world. And dense, layered details can enhance that feeling. But if your details are just there, if they don't actually increase their understanding of the universe you've created, then it's just clutter, and your reader will weary of them.
In the end, I can see why some folks really enjoy Sleep No More. It's an amazing production, and I did really enjoy myself. But I suspect I personally witnessed about 5% of the story despite my sweaty efforts, and I got tired of trooping up and down stairs with fifty other people in masks, only to arrive on the next floor with no idea where the actors I'd been following had run off to. Finally, the emptiness of the details left me cold. If there had been clues and surprises, I would have been content to sift them, to pretend I was in this ghost world, investigating. Who knows; maybe there were – it's a huge space, and I wouldn't be surprised at all to discover I'd missed a million things.
Plus, the drinks were outrageously overpriced in the spooky lounge area. Damn their eyes.