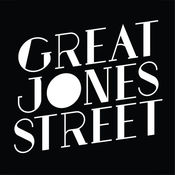 Y'all might remember that last year Great Jones Street, the new short story app aiming to be the "Netflix of Fiction" reprinted my story Ringing the Changes, which appeared in "Best American Mystery Stories 2006." If that didn't prompt you to go download the app, go on an do so. I'll wait.
Well, as an added incentive (?) the good folks at GSJ have added a "live reading" feature where authors upload audio of themselves reading their stories. You can read the story with your eyes like a sucker, or hear me read it to you! Plus, because I have dangerously little to do and a lot of spare time, I went ham on adding sound effects and such to my reading.
You can hear a 1 minute sample of my reading here:

The full reading is about 20 minutes long and is, of course, brilliant. You should totally download the app to hear it.