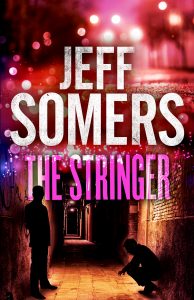 As anyone who has signed up for the mighty mighty Jeff Somers Rocks You Like an Email Hurricane newsletter already knows, I recently ran a newsletter-only giveaway offering up five rare print copies of my Ustari Cycle novella The Stringer, which is only available for sale as an eBook right now.
I plan to do a giveaway like this every time I send out a newsletter, and I'll be doing about 4 newsletters a year. So if you haven't signed up for mine yet, do the math and sign up immediately. I'll be sitting here, staring at my MailChimp dashboard, waiting.
Anyways, it's too late for you to win The Stringer because that ship has sailed without you. But I can now reveal the winners!
THE STRINGER CAPTION CONTEST
The contest was simple. I included this photo: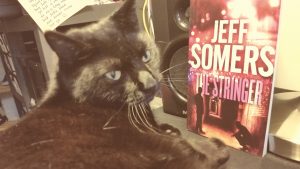 And asked folks to offer a caption. I received a couple dozen entries, which I anonymized and sent to my wife, The Duchess, to choose 5 of the best. Here are her selections, the lucky winners:
"Thumb monkey I demand string. This is unacceptable." — Terry Moody
Sorry, you can only give away four copies. I chewed on this one a little bit. — Jesse W
"Hey! So, where's the string?" — Colin D. Smith
Attached are my revisions. — Emerson Dameron
I wanted to play with string and the drunk gives me this. It's just insulting. — Jason Falter
Personally, #4 is my favorite for no reason whatsoever, although #5's reference to alcohol is always a winning strategy with me.
Congrats to the winners!