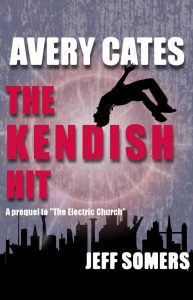 Just a quick note to remind everyone that the new Avery Cates short story The Kendish Hit is officially available. For just 99 cents you get the title story, a prequel set long before the events of The Electric Church, plus several other Cates short stories that are variably available depending on how well you've been paying attention over the last few years. Here's the cover copy:
In this prequel to "The Electric Church," a young Avery Cates takes on his first job, meets someone who will be an old friend someday, and learns some hard lessons in the newly-formed System of Federated Nations.
Contains the previously-released Avery Cates stories "This Was Battle. This Was Joy," "The Golden Badge," "The Oldest Bastard on the Block," "This Was Education," "all orphans, at least," and "The Sewer Rat."
Enjoy! 99 cents for a digital copy, just $6 for a print book.